Marble.Blast.XP was a game in the Marble.Blast series developed by GarageGames and Plastic Games. It was produced by Tiger Electronics and KID Group, and distributed by Hasbro. The game was a port of Marble.Blast to the Net Jet, with new textures, music, and GUIs, as well as gameplay elements.
See diagram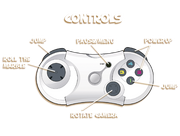 The PowerUps in Marble Blast XP are as those in Marble Blast:
The hazards in Marble Blast XP are also as those in Marble Blast:
Checkpoint - resets your spawn point.
Start Pad - the original spawn point.
Gems - These are to be collected in every level that they are present in. The level cannot be completed without them.
Awards - Achievements given for meeting a certain criteria in a level.
Silver Time - a challenge set by the level creator(s) to encourage the player to beat the second best time set by them.