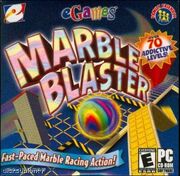 Marble Blaster (aka Marble Blast) is the very first Marble Blast game. It was released in 2001 as Marble Blast, and rereleased on December 27th, 2002 as Marble Blaster. It was developed by GarageGames and Monster Studios and published by eGames. It was succeeded by Marble Blast Gold in 2003.

This is a description taken from Marble Blaster. Do not modify it.
---
Marble Blaster™ is an arcade action game with simple yet addictive game play, suitable for players of any age. In the rich cartoon landscape of Marble Blaster™, players will race their marbles through moving platforms, dangerous hazards, sparkling treasures and power-up enhancements in an effort to complete each course in record time!
Description
Edit

This is a description taken from Marble Blaster. Do not modify it.
---
Over 70 whimsical levels, each more challenging than the last!
Various obstacles including power fans, whirling tornados, pinball-style bumpers, narrow catwalks, dizzying chasms, and more!
Ability enhancing Power-ups, such as SuperSpeed, SuperJump, Gyrocopter, Shock Absorber, and more!

This is a description taken from The Adrenaline Vault. Do not modify it.
---
Easy to pick up and hard to put down!
Beginner Levels
Edit
7. Elevator
8. Air Movement
9. Gyrocopter
10. Time Trial
11. Super Bounce
12. Gravity Helix
13. Shock Absorber
16. Bumper Training
17. Breezeway
18. Mine Field
19. Trapdoors!
20. Tornado Bowl
21. Pitfalls
22. Platform Party
23. Winding Road
24. Grand Finale
Intermediate Levels
Edit
25. Jump, Jump, Jump
26. Monster Speedway Qualifying
27. Skate Park
28. Ramp Matrix
29. Hoops
30. Go For The Green
31. Fork In The Road
32. Tri-Twist
33. Marbletris
34. Space Slide
35. Skee Ball Bonus
36. Marble Playground
37. Hop, Skip And A Jump
38. Take The High Road
39. Half-Pipe
40. Gauntlet
41. Moto-Marblecross
42. Shock Drop
43. Spork In The Road
44. Great Divide
45. The Wave
46. Tornado Alley
47. Monster Speedway
48. Upward Spiral
Advanced Levels
Edit
49. Thrill Ride
50. Money Tree
51. Fan Lift
52. Leap Of Faith
53. Freeway Crossing
54. Stepping Stones
55. Obstacle Course
56. Points Of The Compass
57. Three-Fold Maze
58. Tube Treasure
59. Slip 'n' Slide
60. Skyscraper
61. Half-Pipe Elite
62. A-Maze-Ing!
63. Block Party
64. Trapdoor Madness
65. Moebius Strip
66. Great Divide Revisited
67. Escher's Race
68. To The Moon
69. Around The World In 30 Seconds
70. Will O' Wisp
71. Twisting The Night Away
72. Survival Of The Fittest
73. Dive! (Exclusive to Marble Blaster)